Axle Surgeons of El Paso
24/7 Expert Mobile Spindle Replacement Specialists
Tell Axle Surgeons of El Paso you found them on 4RoadService.com.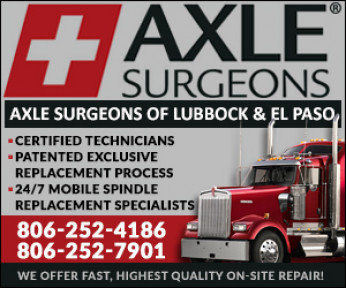 More About Axle Surgeons of El Paso
Axle Surgeons of El Paso
Call: 806-252-4186 or 806-252-7901 - Fair Competitive Rates!
24/7 Mobile Spindle Replacement Specialists
We Offer Fast, Highest Quality On-Site Repair!

* Patented Exclusive Replacement Process
* Certified Technicians
* New Spindle Replacement - Stronger Fix & Reliability
* Safer than Patches or Repairs
* Service Vehicles Carry All Machines & Parts

Cover Texas and New Mexico:
Texas:
El Paso, Ft. Hancock, Ft. Stockton, Kermit, Levelland
Lubbock, Monahans, Muleshoe, Orla, Pecos,
Post, Plainview and Van Horn.

New Mexico:
Alamogordo, Artesia, Carlsbad, Clovis, Deming,
Eunice, Hobbs, Jal, Las Cruces, Lordsburg, Lovington
Portales, Roswell, Ruidoso, Tatum and White Sands.

Services:
King Pins
Spider Plates
Spindle Replacements
Training Shafts for Mack Trucks

Get Up & Running Quickly With Professional Spindle Repair From Axle Surgeons!