A1 ENTERPRISES of WNY, INC.
24/7 Truck, Trailer, Reefer Repair + Heavy Duty Towing
Tell A1 ENTERPRISES of WNY, INC. you found them on 4RoadService.com.
24 hour service
Phone 716-674-3300
Phone 716-674-3300
Services Provided:
Truck Repair, Trailer Repair, Heavy Duty Towing Service, Reefer Repair, Auto Repair, and Auto Towing & Recovery
Computer Diagnostics
Freightliner, Peterbilt, Hino, Volvo, Kenworth, International, Western Star, Detroit, Mack, Cummins, Paccar, Caterpillar, Navistar, and Ford
Trailer Diagnostics
ABS Diagnostics, Manac, Utility, Hyundai, and Great Dane
11075 Walden ave

Alden

,

NY

14004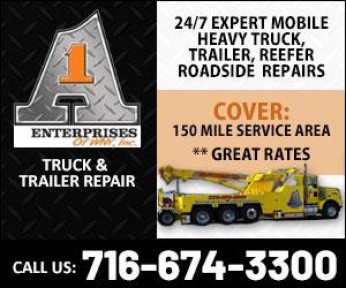 More About A1 ENTERPRISES of WNY, INC.
Call: 716-674-3300 - Fast, Reliable Response - Great Rates!
24/7 Expert Mobile Heavy Truck, Trailer, Reefer Roadside Repairs + Heavy Duty Towing
*** Registered NY. State Full Service Shop Facility - OEM Software Diagnostics & Parts - Sensor Replacement
Dealer & Distributor with Large Parts Inventory (Available 24 Hours)
* Experienced Technicians - Cover 150 Mile Service Area

* State-of-Art Computer Diagnostics
* Forced Regens
* Heavy Duty Towing
* Rotating Wrecker
* Load Transfers / Shifts
* Loading Docks For Cross Loads
* Warehouse & Storage
* Mobile Welding & Fabrication

Services:
Mobile Repair Service
Trailer Repair
Transmission & Drive Line
Radiator & Cooling
Mobile Fueling
Hydraulic & Line Replacement
Engine
Electrical & Pneumatic Repairs
Diesel Engine Emissions Testing
Bus Repairs
Air Conditioning
Preventative Maintenance
Battery Boost / Replacement and much More....

Call A-1 Enterprises of WNY, for Excellent Gasoline and Diesel Service and we can Schedule to Make Repairs Convenient for you!!
We are a 24/7/365 repair and tow facility central to two exits off the NYS thruway I-90. We also offer computer diagnostics,
forced regens, load transfers/shifts as well as hydraulic & pneumatic repairs. Among our impressive fleet we also boast a 65 ton rotator.