PENNFLEET CORP
24/7 Excellent Truck, Trailer, Tire Repair/Replacement & Reefer Repair
Tell PENNFLEET CORP you found them on 4RoadService.com.
24 hour service
Phone 610-753-4577
Services Provided:
Truck Repair, Trailer Repair, Tire Repair & Service, Reefer Repair, and Locksmith Services
Computer Diagnostics
International, Western Star, Detroit, Mack, Cummins, Paccar, Freightliner, Caterpillar, Peterbilt, Navistar, Hino, Ford, Volvo, and Kenworth
Trailer Diagnostics
ABS Diagnostics, Utility, Hyundai, and Great Dane
Refrigeration Brands
Thermo King
Mobile Unit Boothwyn, PA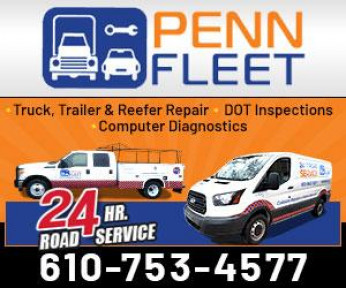 More About pennfleet corp
PENNFLEET CORP. Voted Best & Most Reliable Road Service!!
Call: 610-753-4577
24/7 Excellent Truck, Trailer, Reefer Repair
On Call Dispatcher -Philadelphia, Conshohocken PA. Wilmington DE.
New Jersey & Maryland
*** Best Competitive Rates

* Full Service Shop Facility - 591 Meetinghouse Rd. Boothwyn, PA
* Major & Minor Engine Repairs
* Truck, Trailer & Reefer Repair
* Tire Repairs & Replacement
* Experienced Technicians
* Computer Diagnostics
* Pro-Link ECM Scanner
* Fully Equipped Service Vehicles
* Preventative Maintenance
* In-Shop & Mobile Welding Service
* General Truck & Trailer Parts Sales
* Jump Starts, Fuel Delivery, Lockouts & More!
* Collision Repairs & Body Work

SERVICES:
Roll-Up Doors
Axle Wheel Seals
Slider Rails
Electrical & Lights
Landing Gears / Exhaust Systems
Air Lines / Brake Chambers
Oil Hub Caps/ Air Valves / Air Bags
Clutch Adjustments / Coolant Hoses
Brakes Locked Up
Belts / Charging System
Starting System / Coolant System
Air System / Fuel System
AC / Drive Line / U-Joints
Federal DOT Inspection & Repairs
Hydraulic Hoses / Lift Gates

Call PENNFLEET CORP. For Fast, Professional Road Service.... Vehicles Equipped With a Full Set of Hand And
Air Tools, Pro-Link ECM Scanner, ALL DATA Mobile Computer, Air Compressor, Cutting Torches And Hot-Starter!
Accepted Here:
Cash
Payment due upon completion of services.