EVANS TOWING - RECOVERY & TRUCK ROADSIDE
24 Hour Emergency Road Repair Truck, Trailer, Tire Repair & Service
Tell EVANS TOWING - RECOVERY & TRUCK ROADSIDE you found them on 4RoadService.com.
24 hour service
After Hours 770-820-4748
Phone 770-820-4748
https://evanstowingrecovery.com/
Services Provided:
Truck Repair, Trailer Repair, Tire Repair & Service, Heavy Duty Towing Service, and Reefer Repair
Computer Diagnostics
Freightliner, Peterbilt, Hino, Volvo, Kenworth, International, Western Star, Detroit, Mack, Cummins, Paccar, Caterpillar, Navistar, and Ford
Trailer Diagnostics
ABS Diagnostics, Manac, Utility, Hyundai, and Great Dane
Mobile Unit

Carnesville

,

GA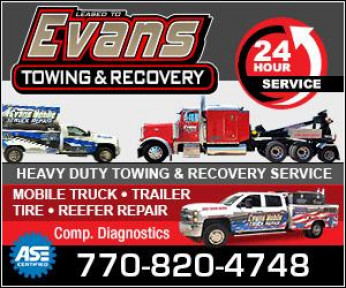 More About EVANS TOWING - RECOVERY & TRUCK ROADSIDE
* Guaranteed 90 Min ETA * ASE Master Certified Techs - 23+ Years Experience!
Call: 770-820-4748 - Reliable & Fast Service - Best Rates!
24/7 Expert Roadside Truck, Trailer, Reefer, Tire Repair & Service
24/7 Specialize in Heavy Duty Towing & Recovery
Covering Carnesville, GA. & ALL Surrounding Areas
Computer Diagnostics For ALL Makes Engines & Transmissions
*** PM Fleet & Preventative Maintenance

SERVICES:
Truck Repairs
Trailer Repairs
Heavy Duty Towing & Recovery
National Accounts
New Used & Recap Tires
Reefer Repairs
RV Repairs
Bus Repairs
Electrical Repair
A/C Service
Suspension
Hydraulics
Brakes & Air
Engine Repair
Transmissions
Drivetrain
Mobile Welding
Oil Change & Lube
Jump Starts / Fuel Delivery / Lockout Service

Call Evans Towing and Recovery for professional and reliable work that is fully licensed and insured.
We Specialize in Heavy Duty Towing and Recovery and quick roadside assistance. Our highly trained
and qualified personnel use cutting edge technology to winch and securely tow vehicles that are either
stuck or immobilized.