DYNAMIC DIESEL REPAIR - Mobile Only
24/7 Diesel Repairs Roadside & Heavy Duty Towing
Tell DYNAMIC DIESEL REPAIR - Mobile Only you found them on 4RoadService.com.
24 hour service
After Hours 803-764-7664
Phone 803-764-7664
Services Provided:
Truck Repair, Trailer Repair, Tire Repair & Service, Heavy Duty Towing Service, and RV Dealers
Computer Diagnostics
Freightliner, Peterbilt, Hino, Volvo, Kenworth, International, Western Star, Detroit, Mack, Cummins, Paccar, Caterpillar, Navistar, and Ford
Trailer Diagnostics
ABS Diagnostics, Manac, Utility, Hyundai, and Great Dane
Mobile Unit

Columbia

,

SC
Highway Location: Highway 77 & Shop Road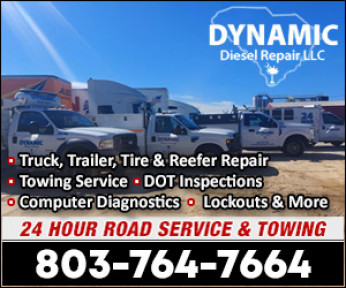 More About DYNAMIC DIESEL REPAIR - Mobile Only
DYNAMIC DIESEL REPAIR - Hablamos Español
Call: (803) 764-7664 Fast Professional Service!
24/7 Mobile Truck, Trailer, Tire Repair & Service + Heavy Duty Towing
***Specialize in Heavy Duty Breakdown Service - Experienced Technicians - Competitive Rates!
Cover 40 Mile Service Radius Around Columbia, S.C.
***Light, Medium & Heavy Duty Towing & Recovery * Landoll Service

SERVICES:
* Mobile Truck & Trailer Repair
* Mobile Tire Service
* Light & Medium Towing
* Winch & Recovery Service
* Rollback Service
* Flatbed Towing
* Local Towing
* DPF Filter Clean / Replace
* Air Conditioning
* Bus Repairs
* DPF Filter Clean / Replace
* Dry Bulk Trailer Repairs
* Transmission & Drive Line
* Electrical
* Engine
* Truck & Trailer Vehicle Inspections
* Radiator & Cooling
* Diesel Engine Emissions Testing
* Tank Wash & Cleaning
* Hazardous Materials Clean Up
* Fleet Maintenance
* Preventative Maintenance
* Lock Out Service
* Fuel Delivery / Battery Replacement / Jump Starts

We'll have our professionals out quickly to repair or tow your commercial vehicle. We're the local choice when it comes
to reliable roadside assistance in the Lexington, S.C. area...next time you are stuck on the road, give us a call!!