TRUCK WORLD REPAIR
24/7 Expert Truck, Trailer, Reefer, Tire Repair & Service
Tell TRUCK WORLD REPAIR you found them on 4RoadService.com.
24 hour service
After Hours

864-327-5940
Phone

864-293-8965
Services Provided:
Truck Repair, Trailer Repair, Tire Repair & Service, and Reefer Repair
Computer Diagnostics
International, Western Star, Detroit, Mack, Cummins, Paccar, Freightliner, Caterpillar, Peterbilt, Navistar, Hino, Ford, Volvo, and Kenworth
Trailer Diagnostics
ABS Diagnostics, Manac, Utility, Hyundai, and Great Dane
Refrigeration Brands
Carrier and Thermo King
1384 Victor Hill Rd Duncan, SC 29334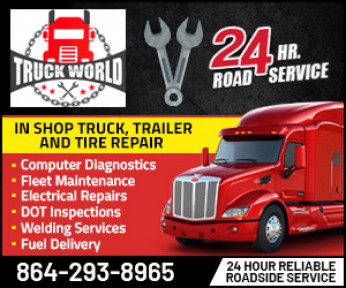 More About truck world repair
TRUCK WORLD REPAIR - Family Owned Since 2011
Call 864-293-8965 After Hours: 864-327-5940 -Quick Reliable Response!
24/7 Expert Truck, Trailer, Reefer, Tire Repair & Service
Cover 150 Mile Radius - South Carolina, Georgia and North Carolina
*** Great Affordable Rates

* Full Service Repair Facility
* General Truck Parts
* Computer Diagnostics
* Experienced Technicians
* Engine Components
* New, Used & Recap Tires
* Heavy Duty Parts Available
* Engine Repair
* Electrical Repairs
* Engine Repair
* Fleet Maintenance
* DOT Inspections

SERVICES:
General Trailer Parts
Transmissions
Suspensions,
Hydraulics
Drivetrain (Parts)
Brakes,
Air Conditioning
Welding Service
Brakes & Air
PM Service
Oil Change & Lube
General Truck Parts
Transmission Parts
Steering & Suspension Parts
Brakes
Radiators
Cooling System Parts
Jump Starts / Fuel Delivery and much more.

Call Truck World Repair, We Make Every Possible Effort to Exceed Your Expectations
by Delivering the Best Possible Service!!