I-35 AUTO AND TRUCK LLC.
24/7 Mobile Truck,Trailer, Tire Repair & Service + Heavy Towing/Recovery
Tell I-35 AUTO AND TRUCK LLC. you found them on 4RoadService.com.
24 hour service
Phone

641-784-3300
Fax

641-784-7308
Services Provided:
Truck Repair, Trailer Repair, Tire Repair & Service, Towing & Recovery, Auto Repair, and Auto Towing & Recovery
Computer Diagnostics
Mack, Cummins, Paccar, Freightliner, Caterpillar, Peterbilt, Navistar, Hino, Ford, Volvo, Kenworth, International, Western Star, and Detroit
Computer Diagnostics
ABS Diagnostics, Manac, Utility, Hyundai, and Great Dane
National Tire Accounts
Bridgestone
210 S Spruce Dr Lamoni, IA 50140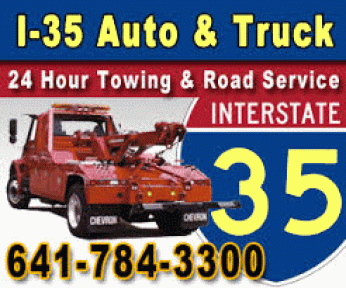 More About i-35 auto and truck llc.
I-35 Auto & Truck - Family Owned & Operated Since 2007
24/7 Expert Mobile Truck, Trailer, Tire Repair & Service
+ Heavy Towing/Recovery - COVER 100 MILE RADIUS
Call: 641-784-3300 or 641-414-7636

Full Service Shop Location:
210 S. Spruce Lamoni, IA. 50140
8AM to 5PM - M/F and 8AM to 2PM Sat.

Mobile Unit Available in New Virginia, Iowa

* Computer Diagnostics
* Expert Experienced Technicians
* Fair Competitive Pricing
* Light, Medium & Heavy Duty Towing & Recovery
* Tire Sales (NEW, USED & RECAPPED) Super Singles

Services Offered:
DPF Filter Clean / Replace
Welding
Truck & Trailer Vehicle Inspections
Transmission & Drive Line
Secure Vehicle Storage
Radiator & Cooling
Quick-Lube
Preventative Maintenance
Part Supplier
Mobile Fueling
Lock Out Service
Load Shifts
Liftgates
Hydraulics
Glass Repair
Frame, Alignment & Suspension
Engine
Electrical
Dry Bulk Trailer Repairs
Diesel Engine Emissions Testing
Bus Repairs
HAZMAT Certified
Air Conditioning and so Much More....

WE OFFER A COMFORTABLE WAITING ROOM, PARTS STORE
A SUPER 8 MOTEL LOCATED BEHIND OUR BUILDING
TO "HELP YOU GET BACK ON THE ROAD"!!!