Mobile Truck and Trailer Repair LLC
24/7 Expert Truck, Trailer, Tire Repair & Service
Tell Mobile Truck and Trailer Repair LLC you found them on 4RoadService.com.
24 hour service
Main

806-252-4186
Mobile Unit Jal, NM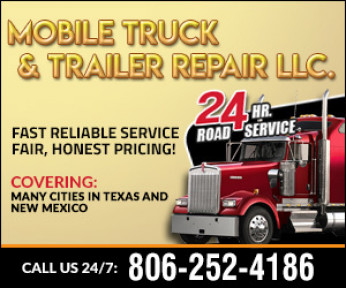 More About mobile truck and trailer repair llc
Mobile Truck and Trailer Repair LLC.
Call: 806-252-4186
24/7 Expert Truck, Trailer Tire Repair & Service
Fast Reliable Service - Fair, Honest Pricing!

Service: Eunice, Hobbs, Lovington, NM
Andrews, Denver City, Ft. Stockton, Kermit,
Midland, Monahans, Odessa, Orla, Pecos, Seminole, TX.

* Computer Diagnostics
* Experienced Techs
* New & Used Tires

Services:
AC Repair
Airlines
Alternator/Battery
Brakes
Fan Belts/Starters
King Pin Work
Radiators
Tire Repair/Replacement
Troubleshoot wiring
U-joints/Drive Lines
Wheel Seals/Bearings
All General Maintenance Repairs

Count on Mobile Truck and Trailer Repair to Get You Back on Road Quickly!!