Richard's Mobile Tire Service
24/7 Expert, Professional Truck, Trailer, Tire Repair & Service
Tell Richard's Mobile Tire Service you found them on 4RoadService.com.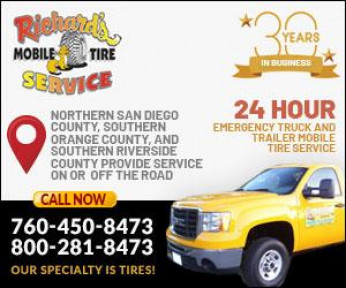 More About Richard's Mobile Tire Service
RICHARD'S MOBILE TIRE SERVICE - 30+ Years in Business
CALL: 760-450-8473 OR 800-281-8473 - GREAT RATES, FAST RESPONSE!
24 HOUR EMERGENCY TRUCK & TRAILER MOBILE TIRE SERVICE

2 MOBILE TRUCKS SERVICING:
Northern San Diego County, Southern Orange County, and Southern Riverside County
Provide service On or Off the Road:

Autos, Semi-Trucks, Trailers, Motor homes, 5th Wheels, Buses, Tractors, Forklifts,
Construction Equipment and even Wheelbarrows

We can and will change, repair or replace most
any size tire that runs on the road (except motorcycle tires).

We do not stock passenger car tires.