SETH WADLEY TRUCK CENTER
24/7 Expert Truck, Trailer, Reefer, Tire Repair & Service
Tell SETH WADLEY TRUCK CENTER you found them on 4RoadService.com.
24 hour service
After Hours 405-268-7812
Phone 405-268-7812
Services Provided:
Truck Repair, Trailer Repair, Tire Repair & Service, Reefer Repair, and Auto Repair
Computer Diagnostics
Freightliner, Peterbilt, Hino, Volvo, Kenworth, International, Western Star, Detroit, Mack, Cummins, Paccar, Caterpillar, Navistar, and Ford
Trailer Diagnostics
ABS Diagnostics and Utility
Refrigeration Brands
Carrier and Thermo King
Mobile Unit

Oklahoma City

,

OK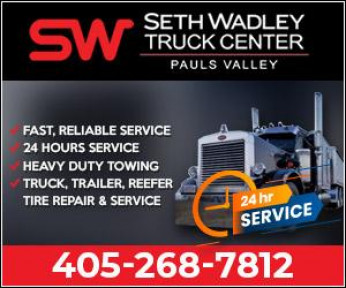 More About SETH WADLEY TRUCK CENTER
Call: 405-268-7812 - Fast, Reliable Service - Best Competitive Rates!
24/7 Truck, Trailer, Reefer, Tire Repair & Service + Heavy Duty Towing Available
Expert Heavy Duty Technicians - SPECIALIZE IN HEAVY DUTY REPAIRS
Service ANY & ALL Types of OTR Semi Trucks, Trailers
Cover 150 Mile Radius Around Oklahoma City, OK.
***Preventative Maintenance - PM Package Available (Service List Below)
Full Service Shop Facility - 2631 W. Grant Ave. - Paul Valley, OK. 73075

SERVICES:
* Full Engine Work Repair
* Reefer Repair
* All Types Of Trailer Repair
* Certified DOT Inspections
* DPF Cleaning
* Resurface Flywheels
* Replace Injectors
* Lube Liner Filters
* Oil Filters
* Hydraulic Filters
* Engine Air Filters
* Cabin Air Filters
* Fuel Filters
* Transmission & Gear Box Service

Call Seth Wadley Truck Center, Our Team Is Dedicated To Serving You. From DOT Inspections To Full Service
Repairs, We Are Here For You. We Offer Many Services and Mobile Services For Heavy Duty Vehicles,
Medium Duty Vehicles, and Standard Vehicles.

*** Preventative Package Includes:
Oil Fill, Oil Filters, Fuel Filters, Fluid Level Inspection, Tractor Lube, Test Nitrite Level
In Coolant, and Brake Inspection Transmission & Gear Box Services Complete Fluid Drain, Fill To
Capacity & Visual Inspections Plus More!