Black Smoke Diesel Repair LLC
24/7 Expert Complete Truck ,Trailer & Tire Repair & Service
Tell Black Smoke Diesel Repair LLC you found them on 4RoadService.com.
24 hour service
Phone 270-601-6875
Services Provided:
Truck Repair, Trailer Repair, and Tire Repair & Service
Computer Diagnostics
Detroit, Mack, Cummins, Paccar, Freightliner, Caterpillar, Peterbilt, Navistar, Hino, Ford, Volvo, Kenworth, International, and Western Star
Trailer Diagnostics
ABS Diagnostics, Manac, Utility, Hyundai, and Great Dane
Mobile Unit Princeton, KY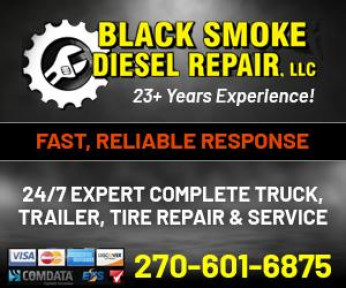 More About black smoke diesel repair llc
Black Smoke Diesel Repair LLC. - 23+ Years Experience
Call: 270-601-6875 Fast, Reliable Response!
24/7 Expert Complete Truck,Trailer,Tire Repair & Service
**** Best Competitive Rates

* Computer Diagnostics
* Tire Services
* Forced Regens
* Dot Inspections
* PM's
* Preventative Maintenance
* Fleet Maintenance

Services:
Mobile Truck & Trailer Repair Service
Welding
Truck Trailer Vehicle Inspections
Transmission & Drive Line
Radiator & Cooling
Liftgates
Hydraulics
Engine
Electrical
Dry Bulk Trailer Repairs
Bus Repairs
Air Conditioning and Much More...

Call Black Smoke Diesel Repair For Expert Repairing all Manufacturers of Trucks, Engines, Transmissions,
Suspensions and ALL Trailer Makes!!