TEXANS CROWN TOWING
24/7 Roadside Truck, Trailer, Reefer, Tire Repair & Service + Heavy Duty Towing
Tell TEXANS CROWN TOWING you found them on 4RoadService.com.
24 hour service
Toll-Free 210-444-2036
Phone 210-444-2036
https://texanscrowntowing.com/contact/
Services Provided:
Truck Repair, Trailer Repair, Tire Repair & Service, Heavy Duty Towing Service, Reefer Repair, Truck Stops, Auto Repair, Auto Towing & Recovery, and Pallets
Computer Diagnostics
Freightliner, Peterbilt, Hino, Volvo, Kenworth, International, Western Star, Detroit, Mack, Cummins, Caterpillar, Navistar, and Ford
Trailer Diagnostics
ABS Diagnostics, Utility, Hyundai, and Great Dane
Refrigeration Brands
Carrier and Thermo King
Mobile

San Antonio

,

TX

78207
Highway Location: I-35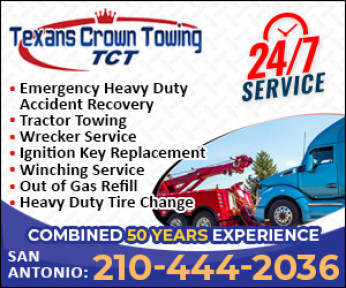 More About TEXANS CROWN TOWING
Computer Diagnostics * 50 + Years Combined Experience * Fully Equipped Repair Facility
Call: 210-444-2036 Fast Efficient Service - Best Rates!
24/7 Truck, Trailer, Reefer, RV, Bus & Tire Service + Heavy Duty Towing & Recovery
Covering: 100 Mile Service Radius Around San Antonio, TX. & ALL Surrounding Areas
PM Truck & Trailer Fleet & Preventative Maintenance - ALL Makes & Models

SERVICES:
Truck Repair
Trailer Repair
Reefer Repair
Tire Repair
New, Used & Recap Tires
Engine Repair
Forced Regens
Engine
Transmission & Drivetrain Service
Hydraulics
In-Shop & Mobile Welding Service
Comprehensive Repair on Trucks, Trailers & Lift Gates
D.O.T. and FHWA Inspections of Trucks & Trailers
Tractor and Trailer Preventative Maintenance
DPF Cleaning
APU Service
Electrical Repair
A/C Service
Oil Change & Lube
RV Repair
Bus Repairs
Paint & Body Shop
D.O.T. and FHWA Inspections
Wheel Alignment & Wheel Balance
Jumpstarts / Lockouts / Out of Fuel Delivery

TOWING SERVICES:
Heavy Duty Towing & Recovery
Load Shifts & Transfers
Winching Service
Equipment Transport
Decking & Un-decking
Equipment Transport
Load Shifts
Load Transfers
Accident Cleanup
Secure Storage

Call: Texas Crown Towing , From Cargo Vans and Light Duty Trucks to Heavy Duty Tractors and Trailers we do it all. Emergency Roadside
Service within 100 miles of San Antonio, TX. and more!