B & C TOWING & REPAIR
24/7 Mobile Truck, Trailer, Reefer, Tire Repair / Service & Heavy Duty Towing
Tell B & C TOWING & REPAIR you found them on 4RoadService.com.
24 hour service
Main 712-309-5392
After Hours 712-309-5392
Mobile Unit Sidney, IA
Highway Location: I-29, Highway 2 in Iowa and Nebraska, Highway 34 in Iowa and Nebraska, In Iowa Exit 1-40, Mile Marker in Missouri 70-128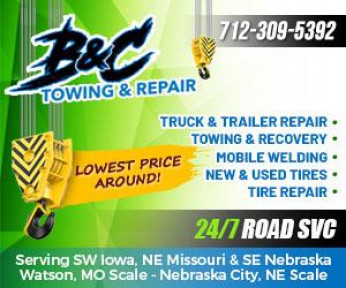 More About b & c towing & repair
B & C TOWING & REPAIR - Family Owned
Call: 712-309-5392 QUICK RESPONSE TIME - FAST AND FRIENDLY!
24/7 Truck, Trailer, Reefer, Tire Repair / Service + Heavy Duty Towing
*LOWEST PRICE AROUND!
* ASE & ATI Certified Techs
* Full Service Repair Facility
* New & Used Tires

WE ARE IN A TRI STATE AREA
SOUTHWEST, IOWA
NORTHWEST, MISSOURI
SOUTHEAST, NEBRASKA
I-29, HWY 2, HWY 34
IOWA SCALE HOUSE, NEBRASKA HWY 2 SCALE, WATSON, MO SCALE HOUSE
PERCIVAL, IOWA TRUCK STOPS AND ROCKPORT, MO TRUCK STOPS AND SYRACUSE, NE TRUCK STOPS
SAPPS,LOVES, CUBBIES, PILOT

Services:
Mobile Truck & Trailer Repair
Air Conditioning
Bus Repairs
Dry Bulk Trailer Repairs
Transmission & Drive Line
Electrical
Engine
Truck & Trailer Vehicle Inspections
Radiator & Cooling
Trailer Refrigeration Repair
Welding
Lock Out Service / Mobile Fueling
Preventative Maintenance

We can do it all – big or small. Our experienced team of tow truck drivers are available 24/7 for all your local and long-distance towing needs.
If you're looking for heavy truck repair, our team ASE and ATI Certified technicians can repair your commercial truck on the side of the road or
in our full-service extended-hour facility.