HERCULES ROADSIDE 24HR MOBILE TIRE RPR/TOWING
24/7 Expert Truck Trailer Tire Repair/Service & Heavy Duty Towing
Tell HERCULES ROADSIDE 24HR MOBILE TIRE RPR/TOWING you found them on 4RoadService.com.
24 hour service
Phone

678-826-9687
Phone

678-271-7729
Services Provided:
Truck Repair, Tire Repair & Service, Towing & Recovery, Locksmith Services, and Auto Towing & Recovery
Computer Diagnostics
Volvo, Kenworth, International, Western Star, Detroit, Mack, Cummins, Paccar, Freightliner, Caterpillar, Peterbilt, Navistar, Hino, and Ford
National Tire Accounts
Bridgestone, Firestone, Michelin, Goodyear, and BFGoodrich
5226 North Henry Blvd Stockbridge, GA 30281
Highway Location: I-75, 228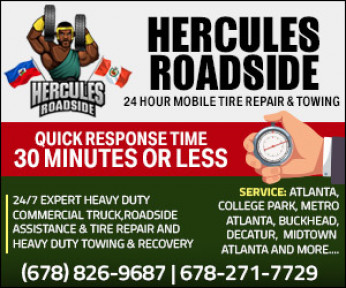 More About hercules roadside 24hr mobile tire rpr/towing
HERCULES ROADSIDE 24HR MOBILE TIRE REPAIR & TOWING
CALL: 678-826-9687 or 678-271-7729
*Quick Response Time 30 Minutes or Less
24/7 EXPERT HEAVY DUTY COMMERCIAL TRUCK, SEMI TRUCK, BIG RIG, 18 WHEELER, TRACTOR TRAILER ROADSIDE ASSISTANCE & TIRE REPAIR
+ HEAVY DUTY TOWING & RECOVERY ** Affordable Competitive Pricing

Service:
Atlanta, College Park, Metro Atlanta, Buckhead, Decatur, Midtown Atlanta,
Stockbridge, Mc Donough, Morrow, Ellenwood, Griffin, Jonesboro, Hampton,
Locust Grove, Hartsfield-Jackson, Atlanta International Airport & All Surrounding Areas.


* Mobile Truck & Trailer Repair
* Diagnostics
* Mobile Welding
* National Tire Accounts
* Tire Service Specialists - Semi & Truck Tires
* Mobile Welding
* DPF Filter Clean / Replace
* On Lot Fleet Maintenance

Replace/ Repair:
Brake Systems Alternators /Starters
Batteries/ Belts/Water Pumps
Out of Fuel / Jumpstarts / Lockouts Service Calls

Call Hercules Towing & Roadside for Best Roadside Service...
We are Fast, Friendly and Professional!!
Accepted Here:
Cash Check