PITTSBURGH TRUCK CENTER
24/7 Truck, Trailer, Tire Repair & Service + Heavy Duty Towing & Recovery
Tell PITTSBURGH TRUCK CENTER you found them on 4RoadService.com.
24 hour service
Phone 412-381-9401
Phone 412-690-5268
https://pghtruckcenter.com/contact
Services Provided:
Truck Repair, Trailer Repair, Tire Repair & Service, and Heavy Duty Towing Service
Computer Diagnostics
Freightliner, Peterbilt, Hino, Volvo, Kenworth, International, Western Star, Mack, Cummins, Caterpillar, Navistar, and Ford
Trailer Diagnostics
ABS Diagnostics, Manac, Utility, Hyundai, and Great Dane
73C Noblestown Rd

Carnegie

,

PA

15106
Highway Location: Route 79, Exit 57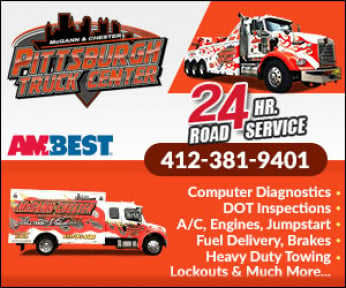 More About PITTSBURGH TRUCK CENTER
Serving the Pittsburgh Area 30+ years - AM BEST Service Center
24/7 Mobile Repair Service + Heavy Duty Towing & Recovery - 80 Ton Rotating Wrecker
***Over 55 Wreckers, Flatbeds, Low Boys, Van Trailers, Forklifts, Skid Loaders
Load Transfers, & Environmental Clean Up
***** PM Onsite Preventative & Fleet Maintenance - ALL Makes & Models

Monday -Friday Full Service 5 Bay Shop Hours: 8:30 AM - 5:00 PM
* AM BEST Full Service Repair Locations:
700 Hargrove Street, Pittsburgh, PA.15226
390 Glade Mill Road, Valencia, PA. 16059
73C Noblestown Road, Carnegie, PA. 15106

* Computer Diagnostics Truck & Trailer
* Regeneration
* New & Used Tires
* Local and Long Distance Towing
* Load Swaps & Loading Dock
* Enclosed Transport
* Recovery - 80 Ton Rotating Wrecker
* Load Swaps, Indoor Storage, Refrigerated Storage
* Forklift Service
* Equipment Hauling:
* Lowboy, Tilt Bed, Double Drop, Industrial Carrier, Oversize, Bus Trailer

SERVICES:
Engine, Transmission & Driveline
DOT Inspections
Fleet Maintenance
A/C
Brakes
Electrical
Suspension
Hydraulics
In-Shop & Mobile Welding
Jump Starts / Fuel Delivery / Lockouts

Our family-owned service has evolved by exceeding expectations for decades – timely and professional service is always standard.
We are conveniently located in Carnegie, PA off of the 79 and 376 corridors. Our state-of-the-art truck repair shop is easily
accessible for trucks, our team is dedicated to quality service, and we understand how valuable your truck's uptime is. With a quick lube bay,
3 quick service repair bays, and 13 general repair bays, we are capable of repairing and maintaining fleets quickly and at a
fair price so you can get back to work. Similarly, our mobile diesel mechanics provide top notch service on-site. Pittsburgh
Truck Center's new facility allows us to more efficiently deliver a complete array of services to the many needs of the trucking industry.