Bartley Garage 24Hr Towing and Recovery
24/7 Mobile Repair & Full Service Shop
Tell Bartley Garage 24Hr Towing and Recovery you found them on 4RoadService.com.
24 hour service
Phone 217-345-3355
814 18th St Charleston, IL 61920-2935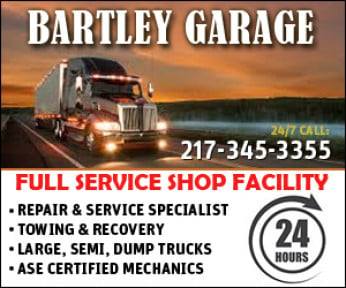 More About bartley garage 24hr towing and recovery
Bartley Garage - 43 Years in Business
Provide Excellent Service Charleston IL & Surrounding area
*Full Service Shop Facility *24/7 Road Service
Specialize in Repair and Service:
Large Trucks, Semi Trucks, Dump Trucks, Cargo & Utility Trucks
Domestic & Foreign Makes & Models
Provide:
*Truck Repair
*Automobile Repair
*Towing and Recovery
*Trailer repair Axle Surgeon availability
*Radiator Service & Repair
*Accident Recovery
*Cargo Swap
*Motor Homes
*ASE Certified Mechanics
Wreckmaster Certified Towers
Refrigerated Trailers for Cargo
Large Parts Inventory
State & D.O.T. Test Lane
Call us, We Get you Back on the Road!