A-Z COMPLETE TRUCK AND TRAILER REPAIR
24/7 Truck, Trailer, Reefer, Tire Repair & Service
Tell A-Z COMPLETE TRUCK AND TRAILER REPAIR you found them on 4RoadService.com.
24 hour service
Phone 346-291-6545
Services Provided:
Truck Repair, Trailer Repair, Tire Repair & Service, and Reefer Repair
Computer Diagnostics
Freightliner, Peterbilt, Hino, Volvo, Kenworth, International, Western Star, Detroit, Mack, Cummins, Paccar, Caterpillar, Navistar, and Ford
Trailer Diagnostics
ABS Diagnostics, Manac, Utility, Hyundai, and Great Dane
Mobile Unit

Dallas

,

TX
Highway Location: Hwy I-30, Exit: Carroll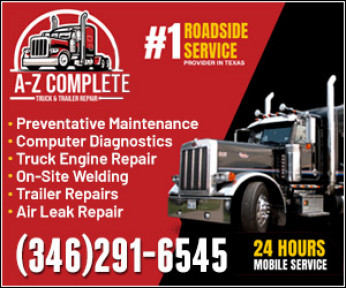 More About A-Z COMPLETE TRUCK AND TRAILER REPAIR
FAIR COMPETIVE RATES - WE ACCEPT ALL PAYMENTS
24/ Truck, Trailer, Reefer, Tire Repair & Service
Major & Minor Repair - High Qualified & Trained Techs - PM Preventative Maintenance

SERVICES:
-Truck and Trailer Repair
- Forklifts
- Hydraulics
- PM Service (preventive maintenance)
- Computer diagnostics
- A/C Repair
- Liftgates
- Airlines
- Air emissions and filters
- Fuel pumps
- Power steering
- Alternators and starters
- Batteries
- Shocks
- Suspension
- Belts
- Hoses
- Coolant leaks, air leaks, and fuel leaks
- Oil leaks
- Engine, transmission, and drivetrain service
- Axles, bearings, seals, and clutches
- Electrical repair
- Lights repair
- DEF system diagnose
- Regen
- Trailer door, flooring, and hinge repair
- Trailer suspension
- Brake chambers
- Airbags
- Wheel seals
- and much more just give us a call.

A-Z TRUCK & TRAILER REPAIR WE OFFER FAIR, FAST, AND RELIABLE REPAIR!
Accepted Here:
Cash Check