KNK Mobile Truck and Trailer Repair LLC
24/7- 365 Days a Year - Expert Truck, Trailer & Reefer Repair
Tell KNK Mobile Truck and Trailer Repair LLC you found them on 4RoadService.com.
24 hour service
Phone 216-346-8643
Services Provided:
Mobile Unit Garfield Hts, OH
Highway Location: 480/77/176/271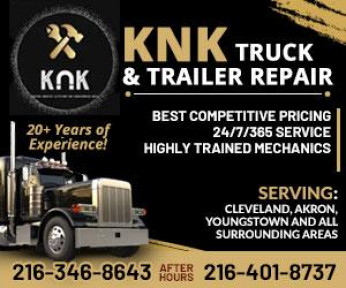 More About knk mobile truck and trailer repair llc
KNK TRUCK AND TRAILER REPAIR
216-346-8643 After Hours: 216-401-8737 - Best Competitive Pricing!
24/7 /365 - Expert Truck, Trailer & Reefer Repair
Providing Mobile Service to Cleveland, Akron, Youngstown and ALL Surrounding Areas
Trained & Experienced Mechanics - 20+ Years

Services:
Major & Minor Repair
Truck Repair
Trailer Repair
Brakes
Air Lines
Welding
Hydraulics
DPF Filter Clean / Replace
Transmission & Drive Line
Electrical
Engine
Vehicle Inspections
Parts
Radiator & Cooling
Fleet Maintenance
Preventative Maintenance
Fuel Delivery / Battery Replacement

Call KNK Truck and Trailer Repair, We Offer Quality Truck Repairs Backed by Years of Experience!!
Accepted Here:
Cash Check