SPECIALIZED TRUCK REPAIR - FAMILY OWNED
24/7 Truck, Trailer, Tire Repair/Service, Reefer, & Heavy Duty Towing
Tell SPECIALIZED TRUCK REPAIR - FAMILY OWNED you found them on 4RoadService.com.
24 hour service
Main 615-256-6145
Services Provided:
Truck Repair, Trailer Repair, Tire Repair & Service, Heavy Duty Towing Service, and Reefer Repair
Computer Diagnostics
Cummins, Paccar, Freightliner, Caterpillar, Peterbilt, Navistar, Hino, Ford, Volvo, Kenworth, International, Western Star, Detroit, and Mack
Trailer Diagnostics
ABS Diagnostics, Manac, Utility, Hyundai, and Great Dane
National Tire Accounts
Michelin
91 Fesslers Ln Nashville, TN 37210
Highway Location: Tennessee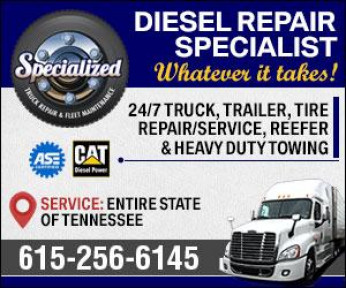 More About specialized truck repair - family owned
SPECIALIZED TRUCK REPAIR - FAMILY OWNED
Call: 615-256-6145 - Quick Uptime, Best Rates!
24/7 Truck, Trailer, Tire Repair/Service, Reefer, & Heavy Duty Towing
SERVICE: Entire State of Tennessee - ALL MAKES & ALL MODELS
Locations: Nashville, Memphis, Fairview, Knoxville & Chattanooga, TN.
Full Service Repair Facility 7AM – 5PM. Monday - Friday
** Our Towing Service Gives Discount Tow Prices Into Our Shops

* ASE-Certified, CAT-Certified & Cummins-Certified Mechanics
* Fully Stocked Repair Vehicles
* Computer Diagnostics
* Major & Minor Repair
* Mechanical Repairs
* Electrical Repairs
* Light, Medium & Heavy-Duty Towing
* Load Shifts
* Pull Starts
* Winch Outs
* Forklift/ Crane Services
* Decking / Un-Decking of Trailers or Heavy Equipment
* Abandon Unit Recovery
* Welding/Fabrication Service
* Fleet Maintenance
* Fuel Delivery / Jump Starts

SERVICES:
Complete Truck & Trailer Repairs
RV Repairs
Axel Repairs
DOT Inspections & Repairs
AC/Reefer Repairs
Brakes
Suspensions
Transmissions
Differentials
Exhaust/Fuel System Repairs
Swing/Overhead Door Repairs
Lift Gate Repairs
Hydraulics

Call Specialized Truck Repair, Our Skilled Mechanics Replace Brakes, Repair Air Leaks, Fluid Leaks, Emission Issues
And Will Do "WHATEVER IT TAKES" To Get Your Vehicle Back on The Road!!