24/7 Truck & Equipment Repair
24/7 Expert Roadside Truck, Trailer, Reefer Repair Service
Tell 24/7 Truck & Equipment Repair you found them on 4RoadService.com.
24 hour service
Phone

816-565-0864
Services Provided:
Truck Repair, Trailer Repair, and Reefer Repair
Computer Diagnostics
Caterpillar, Freightliner, Navistar, Peterbilt, Ford, Volvo, Kenworth, International, Western Star, Detroit, Mack, Cummins, and Paccar
Trailer Diagnostics
ABS Diagnostics, Manac, Utility, Hyundai, and Great Dane
Mobile Unit Plattsburg, MO
Highway Location: I 35 , Exit 40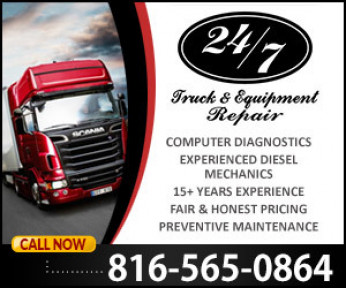 More About 24/7 truck & equipment repair
Call: 816-565-0864
24/7 Expert Roadside Truck, Trailer, Reefer Repair Service

* Computer Diagnostics
* Experienced Diesel Mechanics - 15+ Years Experience
* Fair & Honest Competitive Pricing
* Preventive Maintenance

Services Offered:
* Mobile Repair Service
* Trailer Repair
* DPF Filter Clean / Replace
* Welding
* Weigh Stations
* Vehicle Truck/Trailer Inspections
* Hydraulics
* Engine Repairs
* Electrical
24/7 Truck & Equipment Repair Offers Great Professional
Repairs and we go the Extra Mile to Get You Back on the Road!!