Gold Listing
Great Value for your Money
Your Gold Listing provides great value for your money while maintaining high visibility.
Sign Up Now!
Gold Benefits:
premium search positioning — Your Gold Listing is displayed above other listings that are a similar distance from where a customer is.
Get found for all the services you provide.
Large phone number in search results on phones.
Your company logo on your provider page and in search results.
Photos — Show up to 2 photos of your business to show customers where you will be working on their vehicles.
Add clickable/tappable Call-to-Action button to your listing in search results and on your listing page.
Up to two website links. If you have multiple locations you can link to both your main website and the website for this location.
Links to your social media profiles.
A 1-line ad title displayed right below your company name on your listing page
Promotional text. Do you have a sale going on right now? You can let your customers know here. No sale right now? Tell them about your excellent service.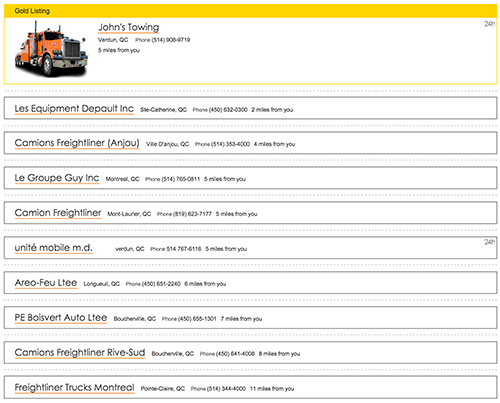 Also included in your Gold Listing:
A detailed listing containing complete contact information for your business, including a link to your website and a form so customers can E-mail you without knowing your E-mail address
Nice print formatting. Customers no longer have to load a separate page for printing, they just print out your listing page and it comes out looking good.
A longer description you can use to make your business stand out from the competition.
A map of your location: We turn your address into Latitude and Longitude co-ordinates and show your location on a map for customers.
No outside advertising on your provider page: Your provider page is about you and only you. No outside advertising is displayed on your provider page.
Option to upgrade to include a Listing Banner for more visibility.
Sign Up Now!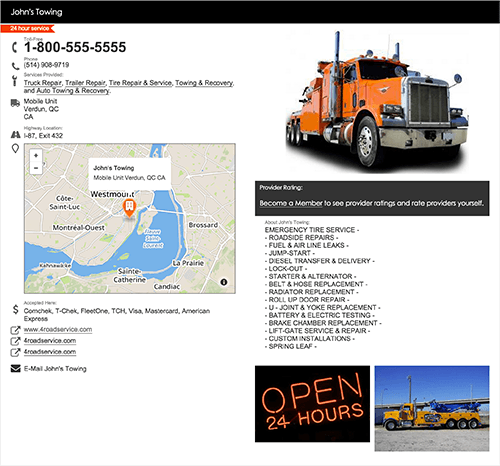 Control Panel in Every Package!
All of our listing packages include a robust control center giving you full control of your account.
Some functions available through your admin are:
edit your listing at any time
upgrade your listing at any time
add or delete logos & images to your listing at any time
Sign Up Now!