JAMES KELLY TRUCK TIRES
24/7 Truck Tires - On Site Emergency Service
Tell JAMES KELLY TRUCK TIRES you found them on 4RoadService.com.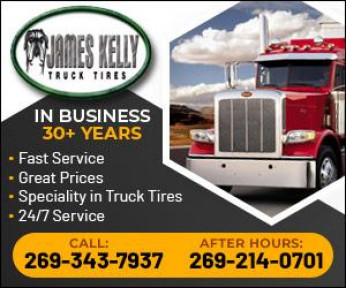 More About JAMES KELLY TRUCK TIRES
JAMES KELLY TRUCK TIRES - In Business 30 + Years
Call: 269-343-7937 After Hours: 269-214-0701 Fast Service - Great Prices!
24/7 Roadside Truck & Trailer Tire Repair & Service
*** Our Specialty is Truck Tires - Shop Facility Location
Close to Speedway Truckstop Exit 66 Matawan
Hablamos Español

* Commercial Truck & Trailer Tires

* Tire Repair & Replacement

* New, Used & Retread Tires

* Tire Rotation & Spin Balancing

* Truck & Trailer Wheel Replacement

* Complete Retread Services & More

We specialize on Truck Tires. But work with all tires from tractor to lawn and garden. We repair and sell new and used tires.
We can order whatever the customer wants and have it in 1/2 day in most cases.
Try our 24-hour road service for farms, commercial businesses or anyone that needs us to come to them!
Accepted Here:
Cash Check