AXLE SURGEONS OF AMARILLO
24/7 Professional Mobile Spindle Replacement Specialists
Tell AXLE SURGEONS OF AMARILLO you found them on 4RoadService.com.
24 hour service
Phone 806-686-7345
Services Provided:
Mobile Unit

Amarillo

,

TX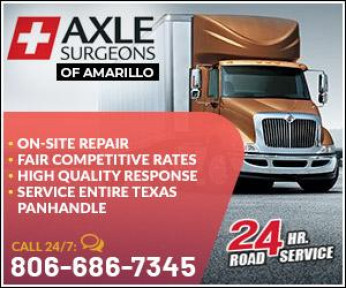 More About axle surgeons of amarillo
AXLE SURGEONS OF AMARILLO
Call: 806-686-7345 - Fair Competitive Rates!
24/7 Professional Mobile Spindle Replacement Specialists
We Offer Fast, Highest Quality On-Site Repair!
****-SERVICE ENTIRE TEXAS PANHANDLE: Amarillo, Tulia, Dimmitt,
Friona, Herford & San Jon & Tucumcari N.M.

* Patented Exclusive Replacement Process
* Certified Technicians
* New Spindle Replacement - Stronger Fix & Reliability
* Safer than Patches or Repairs
* Service Vehicles Carry All Machines & Parts

Services:
Drive Spindle Replacement
Trailer Spindle Replacement
Spider plate Replacement

Get Up & Running Quickly With Professional Spindle Repair From Axle Surgeons!
Accepted Here:
Cash Check