JAW REFRIGERATION
24/7 MOBILE REEFER REPAIR 20+ Years Experience COMPLETE TRANSPORT REFRIGERATION
Tell JAW REFRIGERATION you found them on 4RoadService.com.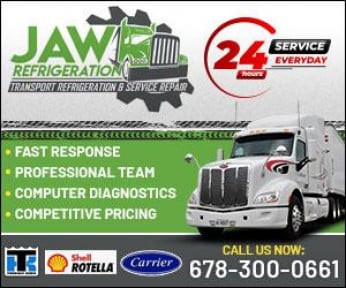 More About JAW REFRIGERATION
JAW REFRIGERATION - Family Owned
Call: 678-300-0661 - Timely, Fast Service!
24/7 Expert Mobile Reefer Repair 20+ years Experience
COMPLETE TRANSPORT REFRIGERATION SERVICE - Veteran Owned
*** Competitive Pricing - Reputable Parts - Free Quotes
Cover Entire State of GA. - CERTIFIED • LICENSED • INSURED
PM Service - Preventative & Fleet Maintenance

OUR SERVICES:
* Reefer Repair
* Thermo King
* Rebuild Thermo King and Carrier Engines
* Rebuild Thermo King and Carrier Compressors
* Experts in Carrier Transicold
* Repair all other Refrigeration Product Lines

TRUCK REPAIR:
Minor Truck Repair, Maintenance Programs

TRAILER REPAIR - Minor Repairs

We offer quality mobile service backed by years of experience! Reefer repair, Thermo King/Carrier repair,
oil changes and preventative maintenance on units are just a few things we offer to keep you up and running!