FRED'S TOWING and TRANSPORT
24/7 Road Service & Towing
Tell FRED'S TOWING and TRANSPORT you found them on 4RoadService.com.
24 hour service
Phone 919-690-0604
Services Provided:
Truck Repair, Trailer Repair, Tire Repair & Service, Heavy Duty Towing Service, Reefer Repair, Locksmith Services, and Auto Towing & Recovery
Computer Diagnostics
Freightliner, Peterbilt, Hino, Volvo, Kenworth, International, Western Star, Detroit, Mack, Cummins, Paccar, Caterpillar, Navistar, and Ford
Trailer Diagnostics
ABS Diagnostics, Manac, Utility, Hyundai, and Great Dane
Refrigeration Brands
Carrier and Thermo King
Mobile Unit

Creedmoor

,

NC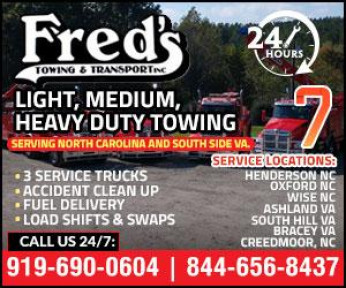 More About FRED'S TOWING and TRANSPORT
FRED'S TOWING & TRANSPORT INC. Locally Owned & Operated Since 1989
Call: 919-690-0604 for Fast Reliable Response!
24/7 Roadside Truck, Trailer, Tire Repair/Service
Specialize: Light, Medium, Heavy Duty Towing & Recovery
*** Fair Competitive Rates Service

Locations:
106 North Durham Ave Suite E Creedmoor, NC. 27537 - 919-690-0604
400 Industry Drive, Henderson, NC. 27537 - 252-430-0082
800 B Lewis Street, Oxford, NC. 27565 - 919-690-0604
1620 B Rooker St. Wise, NC. 27594 - 919-435-8220
200 Maple Lane, South Hill, VA. 23970 - 434-470-1815
3933 Hwy. 903 Bracey, VA. 23919 - 434-470-1815
10477 B. Cobbs Road, Ashland, VA. 23005 - 804-385-7796


The Services That We Provide:
* LIGHT/MEDIUM DUTY TOWING
* LOCK OUTS
* FUEL DELIVERY
* JUMP STARTS
* HEAVY DUTY TOWING/RECOVERY
* ROAD SIDE SERVICE
* REFER UNIT REPAIR
* TRAILER REPAIR
* TIRE REPAIR
* SHOP SERVICE
* CRANE SERVICE
* HARD/FORCE REGEN
* MOBILE WELDING UNIT
* ON SITE/ MOBILE HYDRAULIC HOSE REPAIR
* NATIONAL TIRE ACCOUNTS/ USED & RECAP

*EVERY DAY TO DAY BREAK DOWN ISSUES, but if we can't get you up and going well, WE CAN TOW you to
where you need to go. So make us your one stop Company for ALL your Breakdown and Towing needs!!