HAINES WRECKER SERVICE
24/7 Expert, Professional Heavy Duty Towing & Recovery
Tell HAINES WRECKER SERVICE you found them on 4RoadService.com.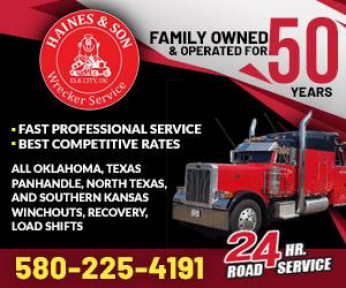 More About HAINES WRECKER SERVICE
Servicing: All of Oklahoma, Texas Panhandle, North Texas, & Southern Kansas
***Nationally Certified & Insured "FAMILY OWNED AND OPERATED FOR 50 YEARS"
Call: 580-225-4191 - Fast Professional Service - Best Competitive Rates!
24/7 Expert Heavy Duty Towing & Recovery
TOW ACROSS STATE LINES Newest , Innovative Technology & Equipment
***Lockout Services & Jump Starts

SERVICES:
Towing Services -
Lite, Medium and Heavy-Duty Towing & Recovery
Abandoned Unit Recovery
Air Cushion Recovery
HAZMAT Certified
Secure Storage
Rollovers
Load Shifts
Load Transfers
Load Storage (Dry)
Winch Outs
Forklift/Crane Service
Wheel-Left Towing
Rollback Towing
Equipment Transport
Off-Road Recovery
Abandoned Vehicle Removal
Water Recoveries
Decking/Un-Decking of Trailers or Heavy Equipment
Environmental Clean Up

Roadside Assistance:
Fuel Delivery / Jump Starts / Unlocks
Tire Changes
Insurance Towing
U Haul Rentals

Call Haines Wrecker Service, Our Certified Technicians Are Provided With SAFETY PROCEDURES Comprehensive Training,
Usage of Protective Equipment & Have Many Years Experience To Handle The Most Challenging Emergency!!