Lents Towing and Recovery
24/7 Truck, Trailer, Tire Repair/Service, Reefer, Heavy Duty Towing & Recovery
Tell Lents Towing and Recovery you found them on 4RoadService.com.
24 hour service
Phone 270-519-3444
Services Provided:
Truck Repair, Trailer Repair, Tire Repair & Service, Heavy Duty Towing Service, and Reefer Repair
Computer Diagnostics
Caterpillar, Peterbilt, Navistar, Hino, Ford, Volvo, Kenworth, International, Western Star, Detroit, Mack, Cummins, Paccar, and Freightliner
Trailer Diagnostics
Manac, Utility, Hyundai, Great Dane, and ABS Diagnostics
Refrigeration Brands
Thermo King and Carrier
1272 Hardin Wadesboro Road Hardin, KY 42048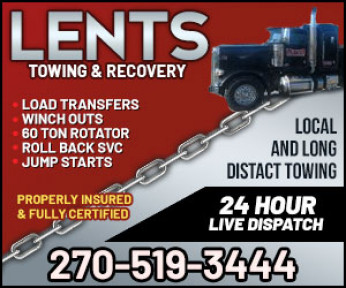 More About lents towing and recovery
LENTS TOWING & RECOVERY SERVICES - Family Owned & Operated
Call: 270-519-3444
24/7 Truck, Trailer, Reefer, Tire Repair/Service, Heavy Duty Towing & Recovery
LIVE DISPATCH - THREE LOCATIONS - HARDIN, CALVERT CITY & PADUCAH, KY.
Speedy, Friendly Service - Fair, Reasonable Rates!

* Licensed, Certified, Experienced Technicians
* Top-of-the-Line Fleet of Trucks & Equipment
* 60 Ton Rotator
* HAZMAT Certified

Locations:
1272 Hardin Wadesboro Road, Hardin, KY. 42028

1150 South 6th Street, Paducah, KY. 42001

2743 Gilbertsville Highway, Calvert City, KY. 42029

Services:
Light, Medium & Heavy Duty Towing
Wrecker Service
Winch Outs
Pull Starts
Heavy Hauling (Anywhere in 48 States!)
Abandoned Unit Recovery
Secure Storage
Rollovers
Load Shifts & Transfers
Load Storage (Dry)
Forklift/Crane Services
Environmental Clean-Up

Call Lents Towing & Recovery to Help You Quickly with Roadside Emergency Needs....
We Will be There Faster Than the "Average Joe" and Get the Job Done!!