Mountain Man Mobile Truck Repair
24/7 Expert Roadside Truck & Trailer Repair
Tell Mountain Man Mobile Truck Repair you found them on 4RoadService.com.
24 hour service
Phone

828-342-1293
Services Provided:
Truck Repair and Trailer Repair
Computer Diagnostics
Freightliner, Peterbilt, Hino, Volvo, Kenworth, International, Western Star, and Mack
Trailer Diagnostics
ABS Diagnostics, Manac, Utility, Hyundai, and Great Dane
Mobile Unit Jal, NM
Highway Location: New Mexico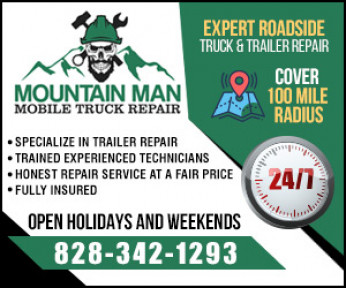 More About mountain man mobile truck repair
Mountain Man Mobile Truck Repair
Call: 828-342-1293
24/7 Expert Roadside Truck & Trailer Repair
If We Don't Pick up Please Leave Voice Message
Some Areas Have Limited Cell Service

Cover 100 Mile Radius - Open Holidays and Weekends

* Specialize in Trailer Repair
* Honest Repair Service at a Fair Price
* Trained Experienced Technicians
* Fully Insured

Services:
Major Repair
Truck & Trailer Repair
Total Undercarriage Repair
Starters / Alternators
Fan Belt
Frame, Alignment & Suspensions
Driveline
Axles
Electrical
Welding
Wheel Seals and Much More...

Mountain Man Mobile Truck Repair Offers Reliable, Dependable
Roadside Service and Will Get You Back on the Road!!