Roadrunner Towing And Truck Service Inc.
24 Hour Heavy Duty Roadservice Towing & Truck Repair in New Jersey and New York
Tell Roadrunner Towing And Truck Service Inc. you found them on 4RoadService.com.
24 hour service
Main 201-575-9859
Services Provided:
Truck Repair, Trailer Repair, Tire Repair & Service, Heavy Duty Towing Service, Auto Repair, and Auto Towing & Recovery
Computer Diagnostics
Western Star, Detroit, Mack, Cummins, Paccar, Freightliner, Caterpillar, Peterbilt, Navistar, Hino, Ford, Volvo, Kenworth, and International
Trailer Diagnostics
ABS Diagnostics, Manac, Utility, Hyundai, and Great Dane
National Tire Accounts
Michelin, BFGoodrich, and Cooper Tires
23 2nd Street

Kearny

,

NJ

07032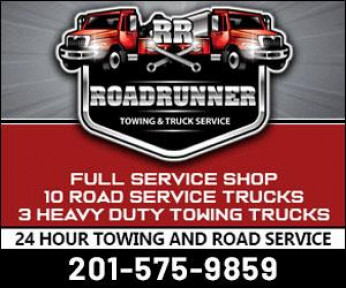 More About roadrunner towing and truck service inc.
ROADRUNNER TOWING AND TRUCK SERVICE
Call: 201-575-9859 Fast Service, Competitive Rates!
"Runners of the Road for Over Twenty Years"
24/7 Truck, Trailer, Tires, Bus, RV Repair & Heavy Towing/Recovery
Service New Jersey & New York - All Surrounding Areas

Full Service Shop Location:
#23 2nd Ave
Kearny NJ. 07032

* Trained, Highly Skilled Technicians
* Computer Diagnostics
* National Tire Accounts - New, Used & Re-Cap
* Michelin - Uniroyal - BF Goodrich
* Full Line of Truck Tires Over 200 Tires in Stock
* Light/ Medium/ & Heavy Duty Towing and Equipment Hauling
* Fully Equipped Trucks With Most Parts
* Forced Regens
* Mobile Welding

Services:
Mobile Fabrication
Fleet Services
Lift Gate Repairs
Spring Replacement
Airbag Replacement
Clutch Adjustments and Replacements
Brake Repair
Light Repair
Door Repairs
BIT Inspections
Decking Replacements
Electrical Systems
King Pin Replacement
Roof Repairs for Trucks
Axle Repair and Replacement
Body Repairs on all Trucks
Seal and Bearing Replacements and More...
*Fully Insured

Depend on Roadrunner Towing and Truck Service for Quality, Fast and Reliable Service!