Lebec Road Service - Call Now
24/7 Fast & Reliable Mobile Truck,Trailer & Tire Repair Service
Tell Lebec Road Service - Call Now you found them on 4RoadService.com.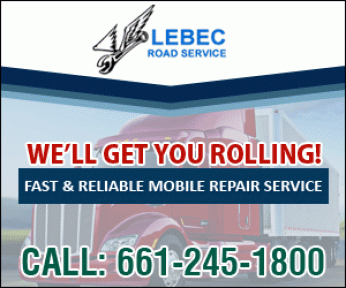 More About Lebec Road Service - Call Now
Lebec Road Service
We'll Get You Rolling!
Fast & Reliable Mobile Repair Service
Family Owned - 25+ Years Experience
Located in Lebec, CA just off the I-5
Provide Service Throughout I-5 Grapevine and Tejon Pass
*Truck, Trailer, RV Repairs and Service
Our Service Includes:
Truck Repair
Trailer Repair
Mobile Tire Service
New/Used or Repaired
Load Shifts
Mobile Fueling
Wiring
Brakes
Belts
Vehicle Inspections - Truck & Trailer
Welding and much more...
Call - 661-245-1800 now for service!