SOUTH PLAINES TOWING & HEAVY WRECKER SERVICE
24/7 Roadside Emergency Services Specialize in Heavy Duty Towing
Tell SOUTH PLAINES TOWING & HEAVY WRECKER SERVICE you found them on 4RoadService.com.
24 hour service
Phone 806-281-0009
721 Erskine St Lubbock, TX 79403
Highway Location: TX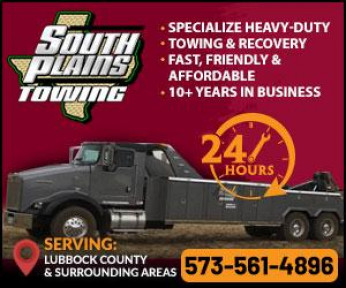 More About south plaines towing & heavy wrecker service
SOUTH PLAINS TOWING & HEAVY WRECKER - 10+ Years in Business
Call: 806-281-0009 - Fast, Friendly, and Affordable!
24/7 Professional & Comprehensive Roadside Emergency Services
Specialize in Heavy-Duty Towing, Recovery, Roadside Assistance, Vehicle Transportation
*** Fuel Delivery, Lockouts, Jump Starts
Cover Lubbock County & Surrounding Areas

* State of the Art Equipment
* Trained and Certified Technicians
* Heavy Duty Towing & Recovery
* Light & Medium Duty Towing
* Flatbed Towing
* Wrecker Towing
* Winching & Extraction
* Load Shifts
* Accident Recovery & Cleanup
* Equipment Transportation Services

Services:
Box Truck Towing
Dually Towing
Moving Forklifts
Scissor Lifts Movers
Boom Lifts Movers
Bulldozers Movers
Excavators Movers
Compressors Movers
Load shifts
Wide Loads Transportation
Commercial Truck Towing
School Bus Towing
RV Towing
Motorhome Transport

South Plains Towing & Heavy Wrecker Service is always here for Lubbock, TX and surrounding areas. Fast, friendly, and affordable. We specialize in light to heavy-duty towing, recovery, roadside assistance, vehicle transportation, and much more. We work around the clock to offer professional and comprehensive emergency services where and when you need them. Call us today and visit our site for more information.