J Ortega Services
24/7 Truck, Trailer, Reefer, Tire Repair & Service
Tell J Ortega Services you found them on 4RoadService.com.
24 hour service
Phone

210-385-8948
Cellphone

210-784-0735
Services Provided:
Truck Repair, Trailer Repair, Tire Repair & Service, and Reefer Repair
Computer Diagnostics
Hino, Ford, Volvo, Kenworth, International, Western Star, Detroit, Mack, Cummins, Paccar, Freightliner, Caterpillar, Peterbilt, and Navistar
Trailer Diagnostics
Utility, Hyundai, Great Dane, ABS Diagnostics, and Manac
Refrigeration Brands
Carrier and Thermo King
Mobile Unit New Braunfels, TX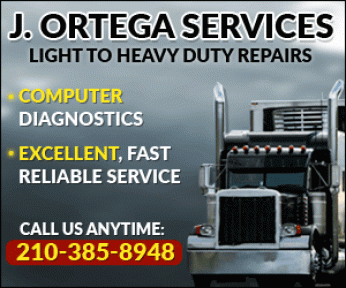 More About j ortega services
J Ortega Services *15 Years Experience
Call: 210-385-8948 * Excellent, Fast, Reliable Service!
24/7 Truck, Trailer, Tire Repair & Service
**** Great Competitive Rates!

* Light to Heavy Duty Repairs
* Computer Diagnostics
* Quality Repairs
* Biggest & Best Deals on Tires
* Portable Welding
* DOT Violation Corrections

Services:
Air Hose, Lights Repair, Air Brake
Wheel Seal, Tire Repair, A/C Repair
Jump Starts, Electrical, Alternators
Starters, Battery Replacement, Fan Belts
Airbags, Hydraulics, Water Pumps
Transmissions, Clutch Repairs and much More!
Se Habla Español
Accepted Here:
Cash Check
Payment due upon completion of repairs.