STATE LINE INSPECTION AND REPAIR
24/7 Highest Quality Truck, Trailer, Reefer, Tire Repair & Service
Tell STATE LINE INSPECTION AND REPAIR you found them on 4RoadService.com.
24 hour service
Phone 615-775-8272
Cellphone 615-775-8272
Services Provided:
Truck Repair, Trailer Repair, Tire Repair & Service, and Reefer Repair
Computer Diagnostics
Freightliner, Peterbilt, Hino, Volvo, Kenworth, International, Western Star, Detroit, Mack, Cummins, Paccar, Caterpillar, Navistar, and Ford
Trailer Diagnostics
ABS Diagnostics, Manac, Utility, Hyundai, and Great Dane
Refrigeration Brands
Carrier and Thermo King
Mobile Unit

Portland

,

TN
Highway Location: i65 north, 112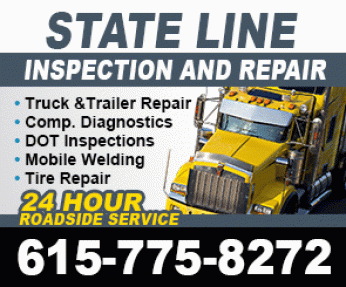 More About STATE LINE INSPECTION AND REPAIR
STATE LINE INSPECTION AND REPAIR
Call: 615-775-8272 - Fast Response 20+ Years Experience!
24/7 Highest Quality Truck, Trailer, Reefer, Tire Repair & Service
Mobile Roadside Emergency Assistance
Service Middle Tennessee Area - 100 Mile Radius
*** Competitive Rates - Licensed & Insured

ONSITE DOT INSPECTIONS -Truck & Trailer
Completed Onsite by FMCSA Certified Inspectors and are Compliant with 49 CFR 396.
Discrepancies repaired onsite by qualified technicians.

PREVENTATIVE MAINTENANCE - Packages Available, PM's performed onsite either at
customer's facility or the vehicles current location.

Services:
Mobile Trucker Repair
Trailer Repair
Reefer Repair
Welding
Liftgates
Hydraulics
Engine Repair
Electrical
Bus Repairs
Air Conditioning
Mobile Fueling and Much More...

Call State Line Inspection and Repair to Receive Unsurpassed Mobile Repair Service...
We do it ALL when you call!!