State Line Inspection and Repair
24/7 Truck, Trailer, Tire Repair & Service
Tell State Line Inspection and Repair you found them on 4RoadService.com.
24 hour service
Phone

615-775-8272
Cellphone

615-775-8272
Services Provided:
Mobile Unit Portland, TN
Highway Location: i65 north, 112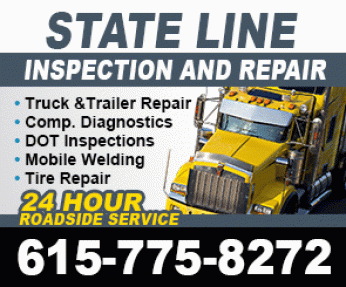 More About state line inspection and repair
STATE LINE INSPECTION AND REPAIR 615-775-8272
24/7 Truck, Trailer, Tire Repair and Service
Mobile Roadside Emergency Assistance
Service Middle Tennessee Area
Competitive Rates
Highest Quality Service
ONSITE DOT INSPECTIONS
Truck and Trailer DOT Inspections Completed Onsite by
FMCSA Certified Inspectors and are Compliant with 49 CFR 396.
Any Discrepancies found at the time of inspection can be
repaired onsite by qualified technicians.
PREVENTATIVE MAINTENANCE
We provide preventative maintenance packages.
PM's will be performed onsite either at the customer's
facility or at the vehicles current location.