QUICK MOBILE TIRE & ROAD SERVICE
24/7 Roadside Emergency Tire Service & Installations
Tell QUICK MOBILE TIRE & ROAD SERVICE you found them on 4RoadService.com.
24 hour service
Phone

916-469-7085
Mobile Unit Sacramento, CA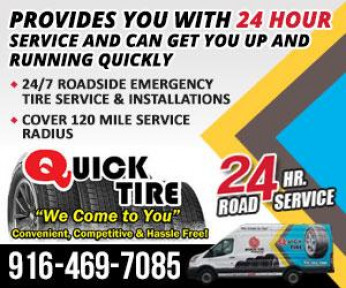 More About quick mobile tire & road service
QUICK MOBILE TIRE & ROAD SERVICE
Call: 916-469-7085 - Fast Service, Competitive Rates!
Provides You With 24 Hour Service And Can Get You Up And Running Quickly
24/7 Roadside Emergency Tire Service & Installations
Cover 120 Mile Service Radius From Sacramento CA. to Reno NV.
** Light, Medium & Semi Truck, Box Truck, Pickup Truck, RV, Bus & Autos

* Many Tire Sizes
* Commercial Truck & Trailer Tires
* Tire Repair & Replacement
* New, Used & Retread Tires
* Truck & Trailer Wheel Replacement
* Fleet Vehicle Service
* Battery Replacement
* Accepting All Major CC, Comdata, T-Chek & EFS

Call Quick Mobile Tire And Road Service, Our Service Trucks Are Equipped With Latest State-of Art Tire Machines & Tools and Equipment to Meet Your Needs!